MOHAMMAD BIJAKSANA JUNEROSANO
Menyemai asa,
meraih cita-cita
bersama
Kali ini Antara Kita ngobrol bareng Mohamad Bijaksana Junerosano, seorang ahli kewirausahaan sosial, yang sejak 2010 aktif menjadi fasilitator dan trainer untuk membantu beragam usaha-usaha sosial di Indonesia. Pria yang akrab dipanggil Sano ini dengan penuh semangat menceritakan awal mula perkenalannya dengan Grand Bekasi (saat ini Grand Bekasi sudah menjadi bagian dari Vida Bekasi –red), hingga kini bersama keluarga kecilnya, telah mantap menjadi warga Taman Frambosa Vida Bekasi. "Maret 2014 saya berkenalan dengan manajemen Grand Bekasi, awalnya saya tertarik dengan visi dari pengembang yang ingin mengelola sampah warga masyarakat dengan lebih bertanggung jawab," ujar Sano mengawali pembicaraan.
Gayung bersambut, saat itu Sano sedang memulai proyek Waste4Change yang misinya ingin mengelola sampah secara lebih bertanggung jawab termasuk memberikan edukasi bagi warga masyarakat. Waste4Change kemudian menjadi perusahaan yang ditunjuk untuk mengelola sampah di Vida Bekasi mulai pertengahan tahun 2014.
Setelah berproses, Sano makin mengenal proyek pengembangan Vida Bekasi dan memutuskan untuk pindah sekeluarga mulai pertengahan tahun 2015 di cluster Taman Frambosa.
Satu hal yang dirasa sangat menarik bagi Sano adalah visi pengembangan Vida Bekasi yang ingin menciptakan kawasan hunian yang tidak hanya membangun tempat tinggal, namun juga ingin menciptakan peluang ekonomi dan lapangan kerja bagi warganya. "Jangan sampai warga di Vida Bekasi melewatkan kesempatan ini. Malah nanti orang-orang di luar Vida, datang dan berbisnis di sini," ungkapnya.
Selain untuk kegiatan pemilahan sampah, Sano ingin sekali menggerakkan warga Vida Bekasi untuk pemberdayaan ekonomi, salah satu caranya adalah ingin menciptakan bank masyarakat di Vida Bekasi yang dapat membantu mengaktifkan roda perekonomian warga. "Kesempatan sudah disediakan oleh pengembang, nah, tinggal kita warga yang garap. Saya sangat ingin duduk bareng dengan warga masyarakat dan membicarakan hal ini. Belum sempat karena kesibukan, tapi ingin sekali."
Memang susah mengumpulkan warga karena rata-rata mereka seharian bekerja di Jakarta dan nyaris tak ada waktu luang untuk kumpul bersama. "Inilah yang ingin betul-betul saya aktifkan, jika warga bisa bekerja di lingkungan Vida Bekasi, maka mereka lebih punya banyak waktu dan tenaga untuk membangun keluarga dan lingkungan tempat mereka tinggal," ungkap CEO Waste4Change ini.
Seperti yang kita ketahui bersama, Vida Bekasi kini mulai menggarap kawasan komersial seperti ruko Alun-alun, ruko Pasar Anyar (bagian dari pasar modern Pasar Anyar) dan ruko Saraswati Sembilan. Dengan penduduk lebih dari 9000 jiwa, Vida Bekasi memiliki potensi usaha yang menjanjikan. Akhir kata, Sano menutup perbincangan dengan harapan ingin bergerak bersama-sama warga meraih cita-cita akan kehidupan yang lebih baik di VidaBekasi. (redaksi)
---
UMI AAM SITI AMINAH
"Do you want to go for an adventure? Start Reading!"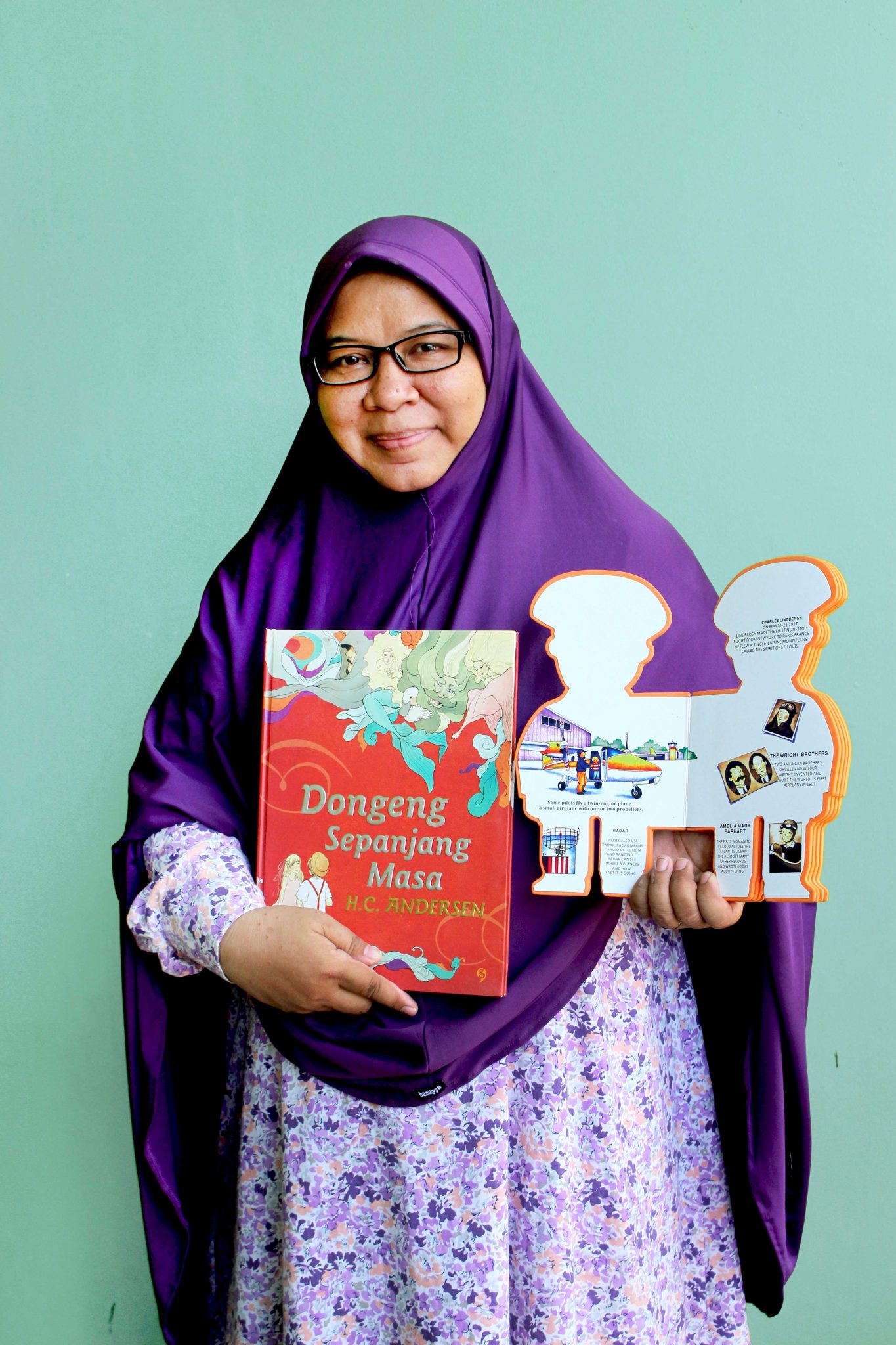 "Read… You'd be surprised by what you could discover." That phrase came from a humble woman named Aam Siti Aminah who is fondly called Umi (derived from Arabic; Ummi which means mother). She is the founder of Rumah Baca Umi (literally Umi's House of Reading), a library with a noble vision to be the source of knowledge for the local community.
Located in Taman Apel housing cluster of Vida Bekasi, Rumah Baca Umi is open for free to anyone who love to read. It has a diverse book collection with more than 1,500 titles of books.
In over 3 years period, this library has help to grow the reading interest for the local community and also holds various events related to reading activities.
Although the library itself is still self-financing those said activities, it has been collaborating with distinguished communities which engaged in the same line of work such as WWF Indonesia, Komunitas 1001 Buku, Komunitas Good Reads, and so on.
Rumah Baca Umi needs more children's picture books, because magazines still dominates the children's literature section of this library. If you feel encouraged to donate books, please visit Rumah Baca Umi on Jl. Taman Apel Hijau I No. 23 – Bumipala – Vida Bekasi. You can easily be a member just by filling a form with your bio, and after that simple step you'd be able to borrow any book within the library's collections.
As a form of concern, Rumah Baca Umi also urges Kindergartens, Elementary and Middle Schools to do a field trip to the library. This library also plans to organize a gardening program called Rumah Baca Berkebun, in order to teach the children how to live closer to nature since early stage.
Hopefully in the future, more and more people will have noble cause and character like Umi, for the progress of society all over the city of Bekasi.